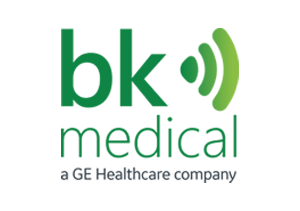 From the very beginning, BK Medical has been committed to designing active imaging systems that help surgeons visualize anatomy and lesions, guide interventions, and navigate inside the human body.

The mission at BK is to change the standard of care in surgical interventions with real-time visual guidance, giving surgeons the information needed to immediately make critical decisions.

Now, BK Medical is advancing its mission with GE Healthcare. Together, they will reach more customers and continue to empower surgeons to make critical decisions that allow for better care, faster procedures, and reduced complications.
Active Imaging
BK's technology for Active Imaging is based on real-time intraoperative ultrasound. 
How Does It Work?
BK's technology is powered by 40 years of expertise in active imaging technology. BK's imaging architecture, algorithms, and sterilizable within-body transducers are designed for organ-specific tissue differentiation. BK's automatic image enhancement algorithms and simple guided workflows allow the surgeon an image that answers a surgical question, with minimal distractions.
Who Is It For?
BK's active imaging products guide general surgeons, HPB surgeons, neurosurgeons, spine surgeons, and robotic-assisted surgeons, as well as urologists, colorectal surgeons and others. BK's imaging is with them for all the necessary steps of the procedure, from staging, through intervention, to validation.