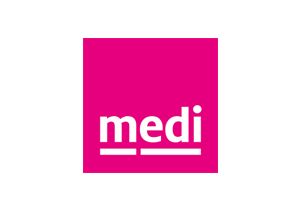 Medi's roots date back to the end of the 19th century, when the company was founded in the town of Pausa, in Vogtland in the state of Saxony in Germany. The product range of the Bayreuth-based company includes medical compression stockings, bandages and orthoses, from thrombosis prophylaxis stockings to compression garments and modern lower limb prostheses.

The company slogan – "medi. I feel better." – reflects the view as a partner to everyone who operates in the medical aids market. medi is developing products and technologies that give people a better quality of life. The aim is to do this by meeting the different needs of all customers, every day and throughout the world.

"I feel better" is therefore a promise that becomes a reality with medi, because they offer indication-specific and effective product solutions to the highest standards, which, with the help of pioneering, individual concepts and dense customer service network, can be provided wherever they are needed.

With a presence in over 90 countries, medi ensures that, above all, the products reach the customer particularly quickly. How does that work? With a worldwide network of branch offices and distributors.
To learn more about Medi International, please visit www.medi.de or contact us for more information.