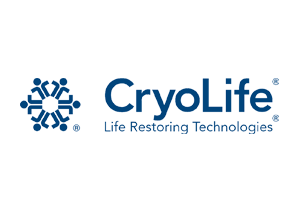 Founded in 1984, CryoLife was the first biomedical company to specialize in the low temperature preservation of human heart valves used for complex cardiac reconstruction primarily in children born with heart defects.

In 1996, the Company acquired the initial patents and technology for a surgical adhesive, BioGlue®, a protein hydrogel polymer, from its inventor Nicholas Kowanko, Ph.D. BioGlue has received CE Mark approval, FDA approval, and was also approved in Japan. It is estimated that BioGlue has been used in over 850,000 surgical procedures worldwide.

The company's protein hydrogel technology platform was expanded in 2009 with the CE Mark approval of BioFoam® Surgical Matrix. BioFoam contains an expansion agent that causes the material to expand its volume by a factor of four or five times and is intended for use as an adjunct in the sealing of abdominal parenchymal tissues such as liver and spleen. The company recently received a CE Mark application for the use of BioFoam in cardiac and vascular reconstruction procedures.

In September of 2010, CryoLife signed an exclusive worldwide manufacturing and distribution agreement with Starch Medical of San Jose, California, for a powdered hemostatic agent, PerClot®. PerClot is CE Marked and is available in certain international markets at this time.

In May of 2011, the Company completed the acquisition of Cardiogenesis Corporation. Cardiogenesis is a pioneer in the development and use of laser technology for transmyocardial revascularization (TMR) in patients with severe angina. TMR is accepted as a meaningful therapy and treatment for refractive angina by the American College of Cardiology, The American Heart Association, and the Society of Thoracic Surgeons. In May of 2012, the Company acquired Hemosphere, Inc., of Eden Prairie, Minnesota, a manufacturer of the HeRO® Graft for access-challenged and catheter dependent hemodialysis patients. With over 5,000 human implants it has been shown to have 69% fewer infections than dialysis catheters. The HeRO Graft complements the Company's preserved human femoral veins and arteries that are oftentimes used as dialysis access grafts in patients with an infected AV graft or patients where an autogenous fistula is not feasible. With the acquisition of the HeRO Graft, the Company can address a wider range of renal dialysis patient populations.

Medi-Life, the exclusive distributor of CryoLife in Malaysia, represents BioGlue, PerClot, BioFoam, and HeRO Graft in its portfolio.