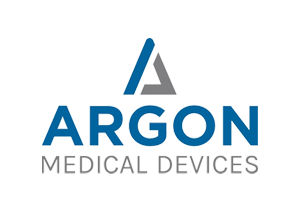 Argon Medical Devices is a global manufacturer of specialty medical products headquartered in Plano, Texas. Argon offers a diverse line of medical devices for Interventional Radiology, Vascular Surgery, Interventional Cardiology, and Critical Care procedures. Its products include the Option™ELITE Retrievable Vena Cava Filter, Cleaner Rotational Thrombectomy Systems, and the UltraStream™ Chronic Dialysis Catheter.

The company acquired Angiotech's Interventional Radiology business in Year 2013. The acquisition brings best -in-class products such as BioPince™ Full Core Biopsy Instruments, Skater™ All-Purpose Drainage Systems, and Atrieve Vascular Snare™ Kits, into the Argon product portfolio. Argon Medical Devices is a privately held portfolio company of Roundtable Healthcare Partners, which is committed to providing clinicians with innovative, technology-driven solutions to improve patient outcomes.

Medi-Life is the exclusive distributor of Argon for its Interventional Radiology range of products in Malaysia.
To learn more about Argon Medical. please visit www.argonmedical.com or contact us for more information.